2019
Glass, metal
Variable dimensions
GLASSTRESS 2019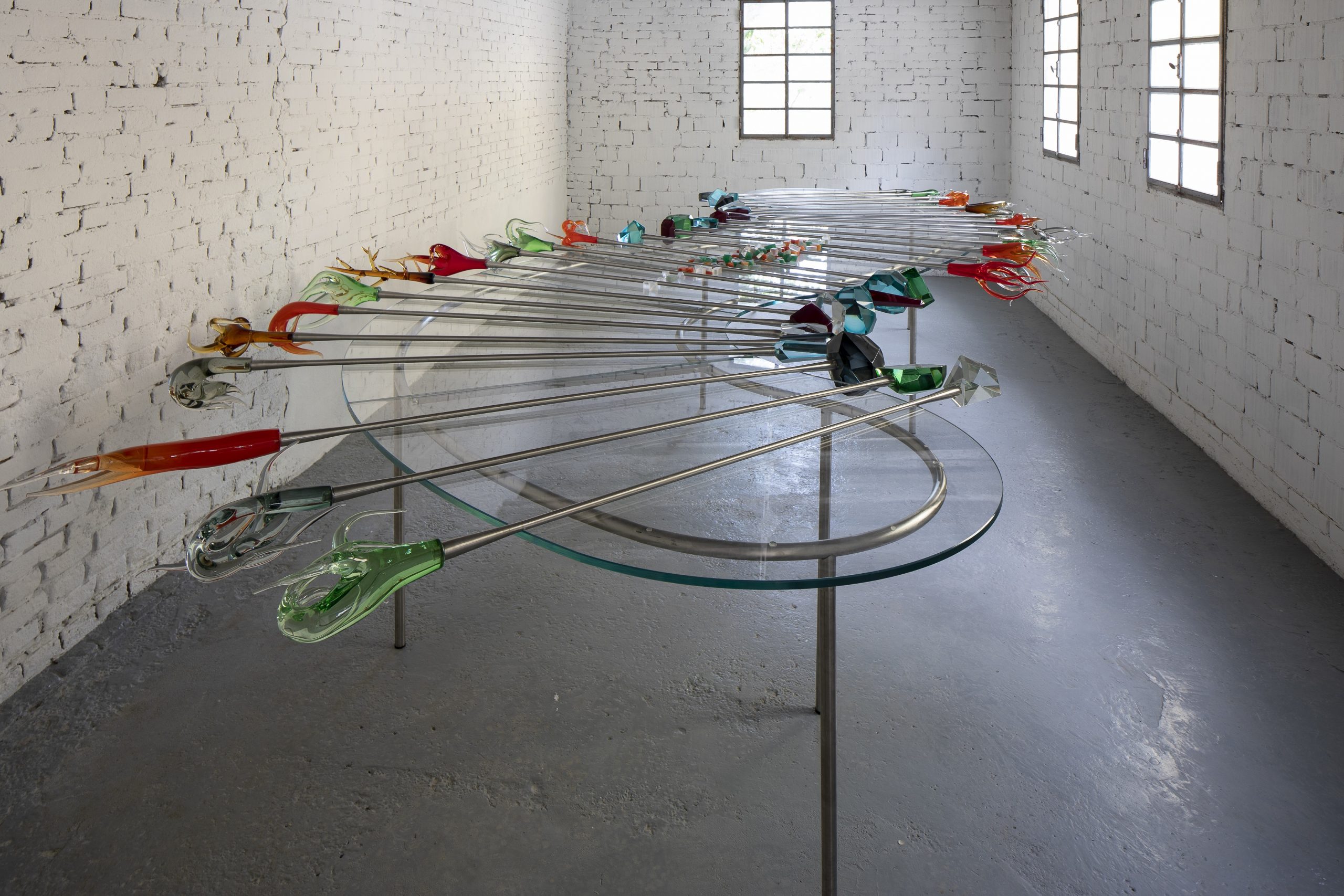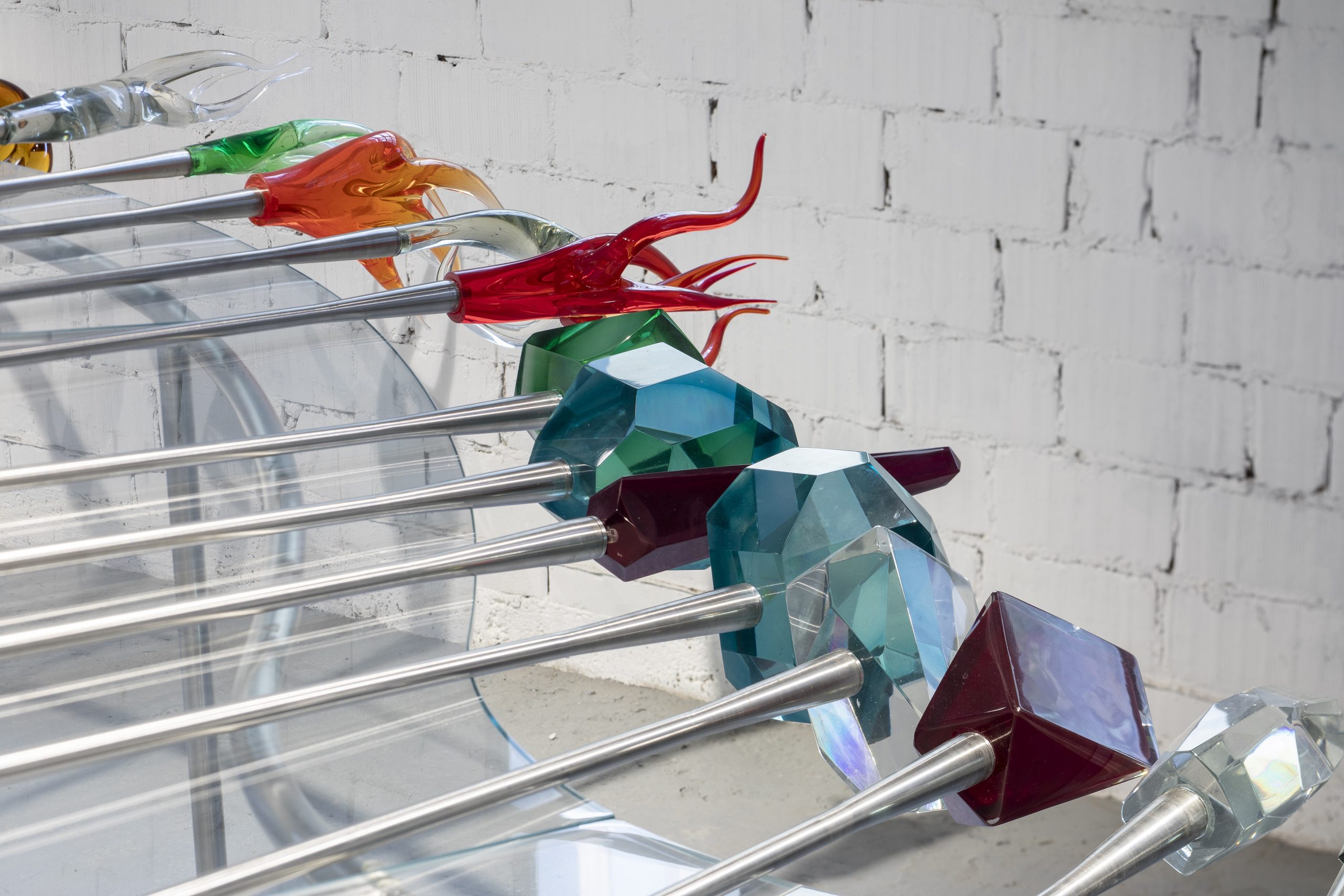 Carlos Garaicoa, born in 1967 in Havana, lives and works between Havana and Madrid. He studied thermodynamics and later painting at the Instituto Superior de Arte, Havana (1989 – 1994).
Read more
He developed a multidisciplinary approach to address issues of culture and politics, particularly Cuban, through the study of architecture, urbanism and history. He focuses on a dialogue between art and urban space through which investigates the social structure of our cities in terms of their architecture. Through a wide variety of materials and media, Garaicoa found ways to criticise modernist Utopian architecture and the collapse of the 20th century ideologies.
Among his most important solo shows we can highlight those at Fondazione Merz, Torino (2017); MAAT, Lisbon (2017); Azkuna Zentroa, Bilbao (2017); Museum Villa Stuck, Munich (2016); Nasjonalmuseet, Oslo (2015); CA2M Centro de Arte Dos de Mayo, Móstoles, Madrid (2014); Fundación Botín, Santander (2014); NC-Arte and FLORA ars + natura, Bogotá (2014); Kunsthaus Baselland Muttenz, Basel(2012); Kunstverein Braunschweig, Brunswick, Germany (2012); Contemporary Art Museum, Institute for Research in Art, Tampa (2007); H.F. Johnson Museum of Art, Cornell University, Ithaca, New York (2011); Stedelijk Museum Bureau Amsterdam (SMBA), Amsterdam (2010); Centre d'Art la Panera, Lérida (2011); Centro de Arte Contemporáneo de Caja de Burgos (CAB), Burgos (2011); National Museum of Contemporary Art (EMST), Athens (2011); Inhotim Instituto de Arte Contemporáneo, Brumadinho (2012); Caixa Cultural, Río de Janeiro (2008); Museo ICO (2012) and Matadero (2010), Madrid; IMMA, Dublin (2010); Palau de la Virreina, Barcelona (2006); Museum of Contemporary Art (M.O.C.A), Los Angeles (2005); Biblioteca Luis Ángel Arango, Bogotá (2000).
He has participated in prestigious international events such as: the Biennials of Havana (1991, 1994, 1997, 2000, 2003, 2009, 2012, 2015), Shanghai (2010), São Paulo (1998, 2004), Venice (2009, 2005), Johannesburg (1995), Liverpool (2006) and Moscow (2005), the Triennials of Auckland (2007), San Juan (2004), Yokohama (2001) and Echigo-Tsumari (2012); Documenta 11 (2003) and 14 (2017) and PhotoEspaña 12 (2012).
In 2005 he received the XXXIX International Contemporary Art Prize Foundation "Pierre de Monaco" in Montecarlo, and the Katherine S. Marmor Award in Los Angeles.
For more information: www.carlosgaraicoa.com

Fondazione Berengo
San Marco 2847
30124 Venezia - Italy
+39 041.739453
comunicazione@berengo.com