DRINK! EAT! FUN! REST! THINK! DREAM! LOVE!
2010
Glass
Variable dimensions
GLASSTRESS BEIRUT
ALLOTMENT / HARVEST RED FRUIT BUCKET, SCARECROW, SOWING TIME-POTS
2011
Glass
37 x 70 x 38 cm / 199 x 110 x 54 cm / 63 x 33 ø cm
GLASSTRESS 2011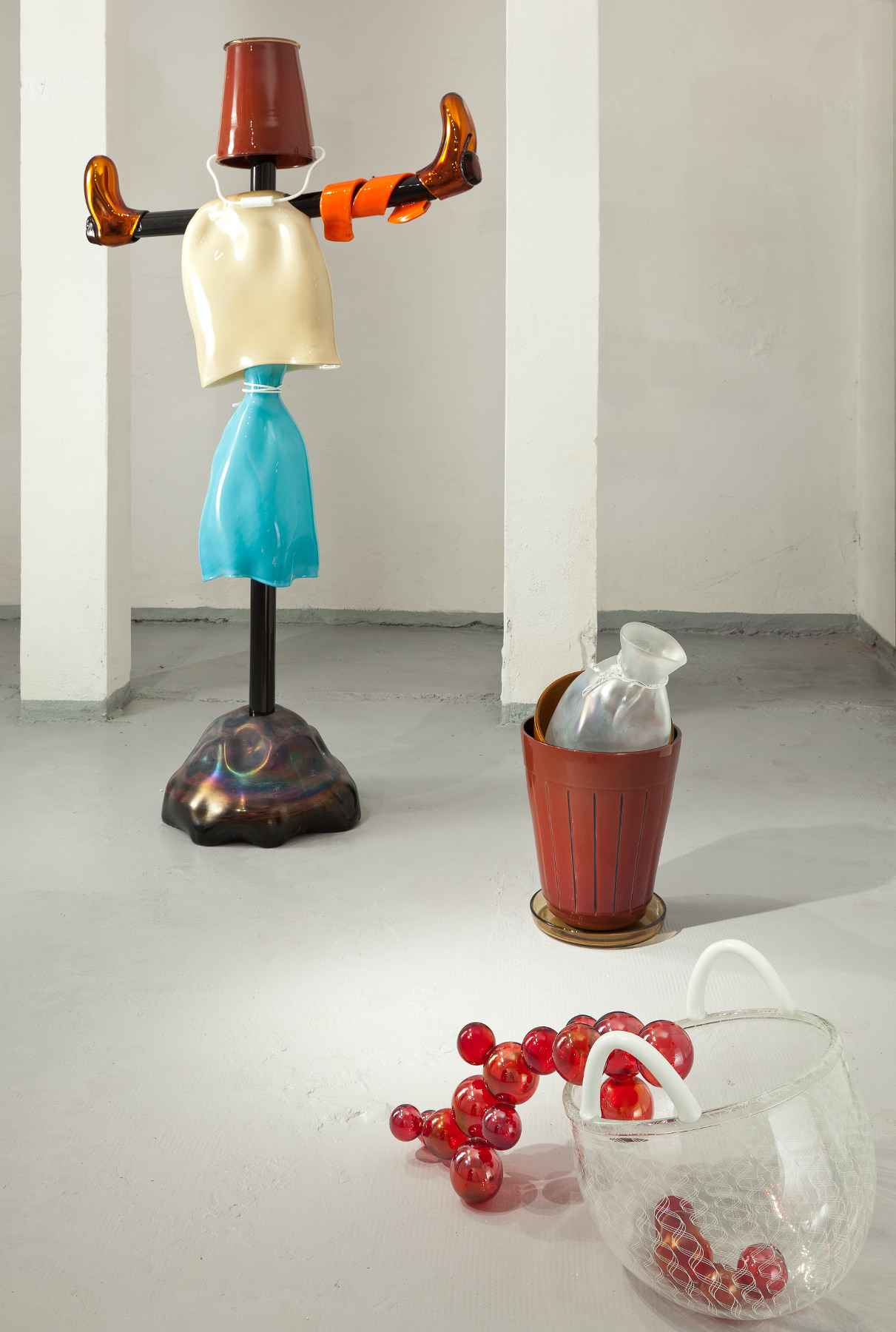 Kiki van Eijk was born in 1978 in Tegelen, the Netherlands, and Joost van Bleiswijk was born in 1976 in Delft. They live and work near Eindhoven. Working as independent designers as well as collaboratively, they represent a new generation of Dutch designers. Together, and individually, using a mix of contemporary and traditional Dutch influences, they create playful designs and products that have gained them international recognition.
Read more
Kiki van Eijk graduated Cum Laude from the Design Academy Eindhoven in 2000. She gives great importance to "making things" by hand. Her nostalgic approach combined with her poetic and personal style are realized in a wide range of work, such as carpets, lighting, furniture, ceramics, glassware, and luxurious textiles. Her collections have been presented in galleries and museums worldwide, in London, Paris, New York, Milan, Cologne, Venice, Kuwait, Tokyo, Montreal, Rome, Amsterdam, Rotterdam, Brussels, and Moscow. Her works have appeared in such publications as Wallpaper, Elle Deco, Harper's Bazaar, Vogue, de Architect, Glamour, and The International Design Year Book.
Joost van Bleiswijk graduated from the Design Academy Eindhoven in 2001. Craftsmanship and traditional techniques are important in his design practice. Joost works not only with sustainable materials, but also with products that have an enduring image. His goal is to create products that are timeless; believing that people should buy things that will last a lifetime only because they have fallen in love with the design. His work has been sold and exhibited at national and international institutions including: Moss Gallery, New York; Holon Design Museum, Israel and the Zuiderzeemuseum; Enkhuizen, The Netherlands.
Much of their work is based on the traditions of the workshop and a respect for craft. Recently, Kiki and Joost held an exhibition at the Noordbrabants Museum (2013), Hertogenbosch, The Netherlands, and completed the exhibition design for Asia in Amsterdam, Rijksmuseum (2015). They have participated in events and fairs such as, Glasstress (individually in 2011, collaboratively in 2013), Venice; Dutch Design Week (2012, 2016), Eindhoven; Milan Design Week (2016); Design Miami/Basel (2016); and PAD London (2016).
For more information: kikiandjoost.com

Fondazione Berengo
San Marco 2847
30124 Venezia - Italy
+39 041.739453
comunicazione@berengo.com