2014
Glass
46 x 28 x 28 cm
GLASSTRESS PTUJ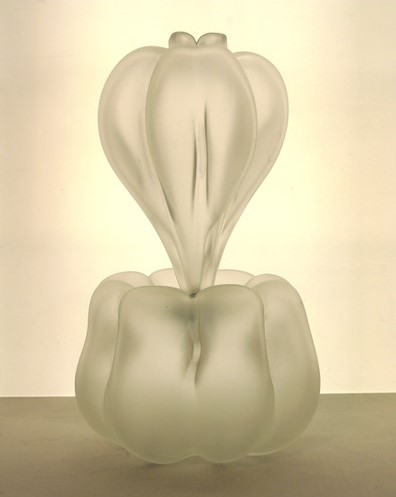 Shane Guffogg was born in Los Angeles, California and raised on an exotic bird farm in the San Joaquin Valley. His interest in painting began while a teenager, when he traveled to Europe and the former Soviet Union and was exposed to the Masters. He received his B.F.A. from Cal Arts, and during his studies he interned in New York City.
Read more
He relocated to Los Angeles, where he lived in Venice Beach and worked as a Studio Assistant for Ed Ruscha from 1989 until 1995. His work began exploring the iconography of Ancient, Classical, Renaissance, Modern and Contemporary cultures, and the relationships among the various times and peoples. During this exploration he found that painting is one of the few art forms that may express what language cannot. The resulting work contains its own language of sign and symbol, and in its patterning, visual depth, and light, simultaneously seems to refer to emotion, to the human spirit, and to the unseen worlds of Quantum Physics and Super String Theory.
Guffogg works in oil on canvas and paper, and watercolor, gouache, and pastel on paper, in addition to traditional etchings on zinc plates. The size of the work ranges from the intimacy of 10" x 8″ to the monumental 10′ x 8′. His oils typically have up to 100 layers of translucent colors that have been mixed with a glazing medium, which causes the paintings to seem illuminated from within.
Guffogg's language of light and color in the oil paintings manifested into glass with the shapes originated from the negative spaces within his paintings, creating a visual duality of male and female, organic and architectural shapes. The glass sculptures are created in Murano, tying his sculptural ideas to an an ancient history of glass making. These shadows have also taken shape in Cararra marble.
Guffogg's work is in the collections of the Hammer Museum, Los Angeles, Nasher Museum of Art at Duke University, Durham, Fundación/Colección Jumex, Mexico City, The Gallery of the Museum Center, Baku, Azerbaijan, Laguna Art Museum, Laguna Beach, Long Beach Museum of Art, Long Beach, St. Patrick's Cathedral, New York, Van Pelt-Dietrich Library, University of Pennsylvania, Philadelphia, Frederick R. Weisman Art Foundation, Los Angeles and other public collections.
For more information: shaneguffogg.com

Fondazione Berengo
San Marco 2847
30124 Venezia - Italy
+39 041.739453
comunicazione@berengo.com